Run display ads campaigns with targeting settings
and various pricing models (CPM, CPC, Flat Fee)
Wide range of standard and non-standard banner formats
Wide range of targeting options
Estimation, forecasting and analysis of campaign performance and ad delivery through our rich media ad server
Include and Exclude cities, regions, countries.
Deliver rich media banner on pages meeting URL rules.
Set limits on frequency capping and delivery distribution of the profile.
Targeting on defined operational systems and devices.
Deliver ad using DMP (data about visitors and their devices).
Block undersirable advertisers or creatives.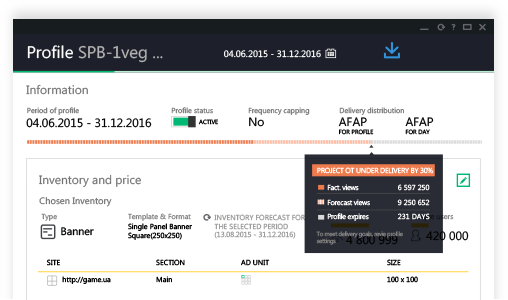 Display advertising campaign forecasting
Our forecasting system algorithm calculates in real time the number of impressions and unique visitors within their period of profile activity. Instantly, find campaigns where you want to change ad delivery settings or extend profile activity in case of underdelivery.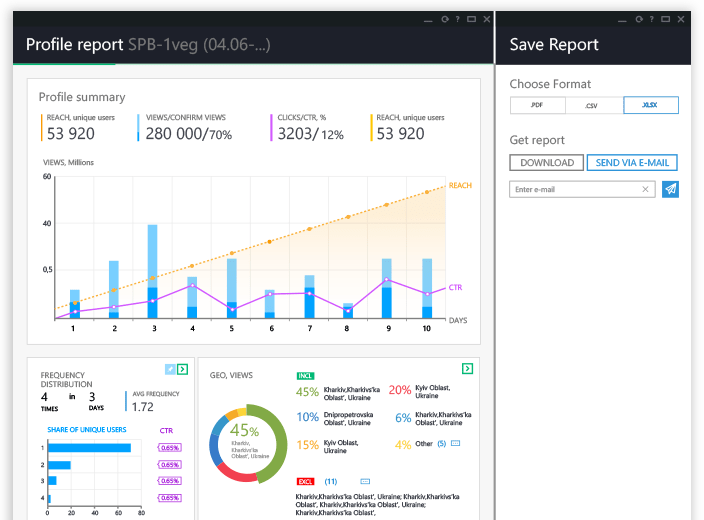 Real-time statistics:
100+ metrics and data sets
Confirmed views and user interaction with display ads
Event tracking of each creative
Unlimited period of
data storage
Start using display adserver now
LEARN MORE ABOUT OUR AD SERVER FORMATS